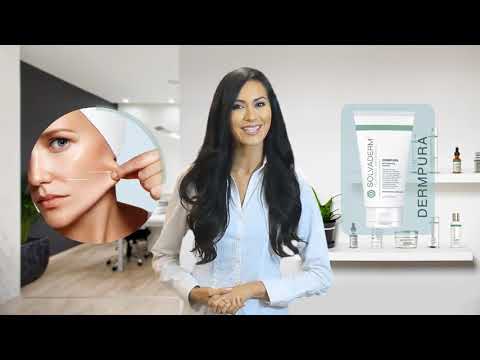 Revolutionizing
Cosmetic Dermatology
Discover Solvaderm's Professional Strength Products For Healthier And More Beautiful Skin.
Clogged pores can lead to breakouts, which cause embarrassment, pain, or discomfort. Following a regular skin care regimen can help remove oil, makeup, and other substances that contribute to clogging and enlarging pores by feeding the bacteria that cause acne. Some people are more at risk for acne due to hormonal changes, such as those that happen during the menstrual cycle or menopause.
Usage
Step 1: Cleanse skin with Dermpura, lathering gently for a few minutes before rinsing off with water.
Step 2: Soak a cotton ball with Maxatone and apply all over your face.
Ingredients
Dermpura

Moisturizing Complex - This ingredient is composed of Rosa Rubiginosa (Rose Hip) Seed, Glycerin and Chondrus Crispus (Seaweed) Extract. These ingredients give your skin a significant moisture boost that fills and pulls up your skin, plumping it even as you cleanse.
Sodium Olivate - This ingredient helps draw out dirt and impurities from your pores. It also helps soften and gently lift the damaged skin layer masking your complexion.
Eriobotrya Japonica Extract - This ingredient floods your skin with antioxidants. As a result, your skin becomes better protected from environmental elements as it simultaneously delivers a significant amount of moisture to nourish your skin.

Maxatone

Plant Complex - This product is formulated with witch hazel, Achillea Millefolium Extract, Symphytum Officinale Leaf Extract, Equisetum Arvense Extract, Licorice Root Extract, Citrus Medica Limonum (Lemon) Peel Extract, Arctium Majus Root Extract, Salvia Officinalis (Sage) Leaf Extract, and Lavandula Angustifolia (Lavender) Extract. These nature-derived ingredients deliver a combination of antibacterial, anti-inflammatory, skin-toning and -purifying properties that all promote skin clarity, tighter pores and a smoother skin surface.
Hyaluronic Acid - This ingredient boosts your skin's moisture. It also enhances your skin's capacity to hold and lock in moisture.
Benefits
These products help promote skin clarity and prevent blemishes.
Consistent application of products in this system promote a smoother, more radiant skin complexion.
The FDA has not evaluated these statements and this product is not intended to cure or prevent any specific skin condition. Remember to read our labels and ingredient lists carefully and always follow the directions for application. If you have a history of skin allergies, a skin patch test is recommended before use. Avoid ingredients that are known to trigger an allergic reaction and discontinue use immediately should a reaction occur.